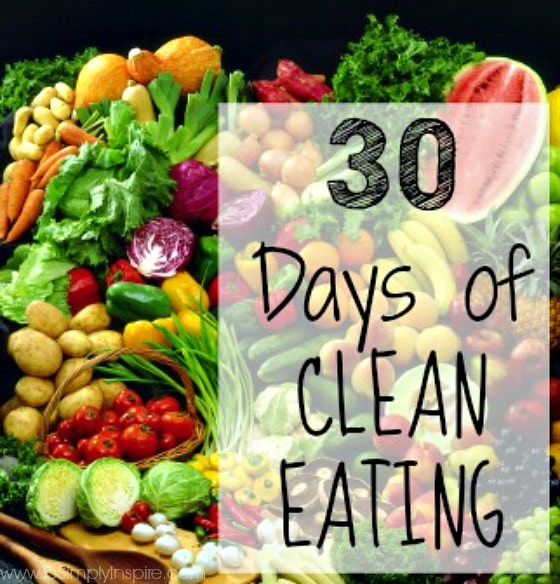 A New Year is among us and every year I have to get back on track with eating well after majorly over-indulging from Thanksgiving through New Years.
I am pretty good throughout the year but for some reason I completely throw in the towel around the Holidays. To be honest, I feel really unhealthy right now and am so ready for this change.
My challenge – 30 Days of Clean Eating
So, what exactly is Clean Eating? When I think of clean eating, I think about eating foods in their most natural state, limiting fats and sugars as much as possible.
This is a challenge you can start at any time.   Preparing your own meals is truly the only way to ensure eating clean. So, eating out the next 30 days is off limits for me.
Below is more information and some of my favorite recipes to get your started if you are new to eating clean.
Day 1 – What To Buy
Day 2 –  Why Should I Eat Clean
Day 3 – My Favorite Breakfast Ideas
Day 4 – Chicken and Kale Soup Recipe
Day 5 – Healthy Slow Cooker Recipes
Day 6 – Discipline
Day 7 – Black Bean Chili Recipe
Day 8 – Clean Eating Snack Ideas
Day 9 – Benefits of Clean Eating
Day 10 – A Typical Day of Clean Eating
Day 11 – The Best Quinoa Pilaf Recipe –
Day 12 – Clean Eating Appetizer Recipes
Day 13 – Chicken, Avocado, Cucumber, Tomato Salad
Day 14 –  Baked Zucchini Cakes
Day 15 –  Healthy Lemon Cake Recipe
Day 16 –  Homemade Microwave Popcorn
Day 17 – Maple Dijon Chicken Recipe
Day 18 – Apple Pork Tenderloin Slow Cooker Recipe
Day 19 –  Slow Cooker Lemon Herb Roasted Chicken
Day 20 – Simple Homemade Marinara
Day 21 –  Healthy Valentine's Day Treats
Day 22 – Healthy Soup Recipes
Day 23 – Chicken Marsala Recipe
Day 24 – Slow Cooker Butternut Squash Soup
Day 25 – Southwestern Rice Bowl
Day 26 – Maple Cinnamon Roasted Chickpeas
Day 27 – Simple Chicken Corn Chowder
Day 28 – Healthy Strawberry Blueberry Banana Smoothie
Day 29 – Healthy Broccoli Potato Leek and Soup
Day 30 – Homemade Lara Bars