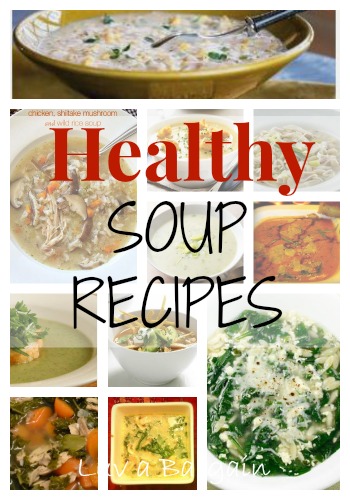 I have been craving soup.  Not only because it is SO cold here and it makes me feel all warm and fuzzy. But, I also love feeling like I am getting more veggies in an easy way.
Here are several that are oh so yummy! 🙂
Slow Cooker Butternut Squash Soup
Simple Chicken Corn Chowder – This easy recipe is so hearty and wonderful.
Chicken and Kale Soup – Love this one so I'm making it again.
Healthy Broccoli Potato Leek Soup – Adding broccoli to one of my favorite soups make it wonderful!
Chicken and Shittake Mushrooms – The Pinterest Place
Skinny Chicken Broccoli Soup Recipe – 3 Boys and a Dog
Creamy Tomato Bisque With Fresh Tomatoes– Riddle Love
Creamy Zucchini Soup with Mixed Herbs – My Recipes
Chicken & White Bean Soup – Eating Well
Tortilla Soup – Sunset
Spinach Stracciatella Soup with Orzo – Skinny Taste
Golden Potato-Cauliflower Soup – Health.com
Sausage Kale Soup – Riddle Love
Roasted Squash Soup -Spark People
Slow Cooker Minestrone – Whole Foods