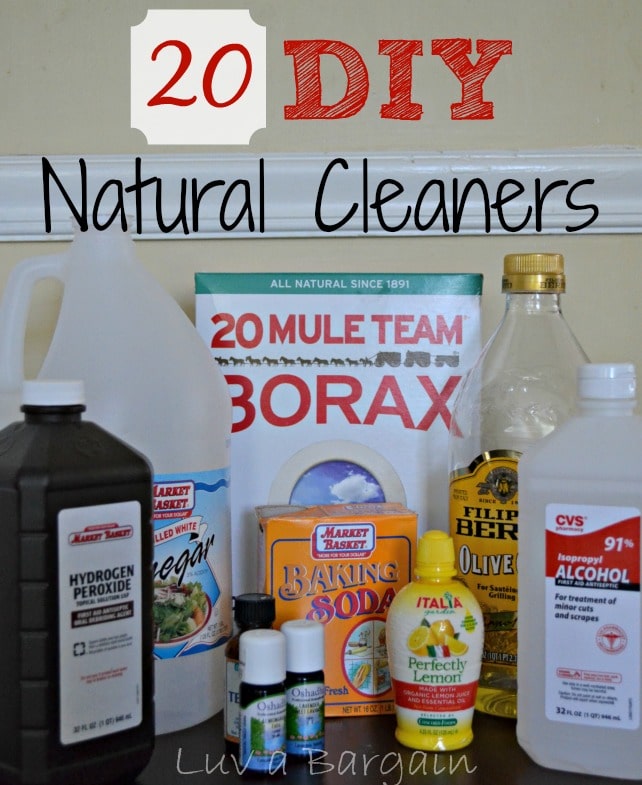 I have been using natural cleaners around my house for a while now.  Not only are they "less toxic" but they are also so much cheaper.
Simply buy a few cheap spray bottles and spend just a little time making up your different cleaners. Label each of them. This way they are always there when you need them.
Below is a list of products you can buy to get started making your own natural cleaners. You may even already have some of them in your house. Even if you just have White Vinegar ($1.99 a Gallon) and Baking soda ($0.50 a box), you are ready!
White Vinegar
Baking soda
Hydrogen peroxide
Rubbing Alcohol
Olive oil
Borax
Lemons and/or Lemon Juice
Castille soap (Dr. Bronner's is great)
Fels Naptha (in laundry aisle or online)
Arm & Hammer Washing Soda (check the bottom shelves in laundry aisle- yellow box)
Lavender essential oil – Natural disinfectant and fragrance enhancer
Lemon essential oil – Fragrance enhancer
Tea Tree Oil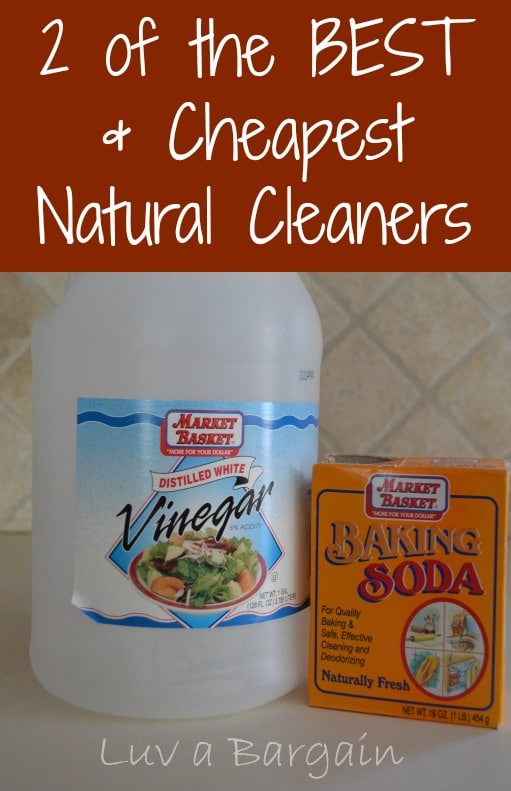 Here are my favorite Natural Cleaners that are great if you are just getting started or are looking for more to add if you are already trying more natural cleaning.
1.  Window and Mirror Cleaner – Mix equal parts white vinegar and water in a spray bottle. The BEST thing to use to wipe is old newspapers.
2.  All Purpose Cleaner – ½ gallon of hot water, 1 tbsp. baking soda, 1 tbsp. castille soap. Mix together and spray.
3.  All Purpose Disinfecting Spray – 2 Cups of Water, 5 tablespoon of white vinegar, 20 drops of Tea Tree Oil. Mix together in a spray bottle.
4.  Wood Floor Cleaner – ½ cup of White Vinegar and 1 Gallon of Water. Mix together and use a damp mop or rag. Wipe dry after cleaning.
5.  Oven Cleaner – Baking Soda and Water. Spray inside of oven with water. Sprinkle baking soda. Let sit for 30 minutes. Scrub until clean.
6.  Microwave Cleaner – Put ½ cup of white vinegar and 2 cups of water in a microwave safe bowl. Heat on high for 3-4 minutes. Remove the bowl and wipe the inside of the microwave.
7.  Stainless Steel Sink Cleaner – Sprinkle baking soda in a stainless steel kitchen sink. Scrub and rinse.
8.  Rust Remover – Sprinkle with salt and then put lemon juice on and let sit for 1 -2 hours. Scrub.
9.  Fruit and Vegetable Wash – 1 cup of water, 1 tablespoon of Baking Soda and 1 tablespoon of lemon juice. Spray onto fruit or vegetable for 5 minutes then rinse off.
10. DIY Powder Laundry Detergent << — This is what I use and I LOVE it!
or you can make "Liquid Laundry Detergent" with this recipe. 3 pints water and ⅓ bar of grated Fels Naptha soap, ½ cup of Arm & Hammer washing soda, ¼ cup of Borax, 1 quart of water, 2 gallon bucket. Mix the grated soap in saucepan with 3 pints of water. Heat on low until completely dissolved. Stir in soda and borax and thickened. Remove from heat. Add 1 quart hot water to bucket, then soap mixture, mix well. Fill rest of bucket with hot water, mix and let sit for 24 hours. Use ¼ cup of mixture per laundry load. You can easily double this recipe. Store in a air tight container.
11. Fabric Softener – Add ½ cup of white vinegar to the softener dispenser.
12.  Furniture Polish – ¼ cup of lemon juice, 1 tablespoon of olive oil, and 1 tablespoon of water. Mix well in a container. Then pour onto a cloth. I mix this when I need it since it is somewhat perishable.
13.  Tub / Shower Cleaner – Soak a sponge with white vinegar and then put baking soda on it to scrub. You can also add a little Castille soap as well.
14.  Toilet Cleaner – Empty the toilet bowl. Then sprinkle ½ cup of borax and scrub.
15.  Drain Cleaner – 1 cup of White Vinegar and 1 cup of baking soda first. Pour this into the drain and let it foam for 5 – 10 minutes. Then pour a gallon of hot water into the drain.
16.  Mold Preventer – Spray undiluted white vinegar in areas you tend to get mold, especially in bathrooms.
17.  Mold Killer – 1 cup of water, 10 drops of tea tree oil and 10 drops of lavender oil. Spray on mold and leave OR use ½ hydrogen peroxide and ½ water and spray on.
18.  Carpet Spot Cleaner vinegar and baking soda. Mix the 2 into a a paste and put it on the stain. Let it dry and then vacuum.
19.  Carpet "General" Cleaner – 1 cup of White Vinegar and 3 cups of water. Mix and use where needed.
20.  Carpet & Furniture Deodorizer – Baking soda and 5 drops of an essential oil (if you want). Mix them and sprinkle on carpet or furniture. Let set for 15 minutes then vacuum. This is also great to use on your mattress, especially with Lavender essential oils.
Other ways to use Natural products around your house.
Add white vinegar to your dishwasher's rinse agent dispenser for shinier dishes.
Rub little Olive Oil on leather furniture to get rid of scratches.
Use lemons to clean chrome, brass and copper.
Add one cup of hydrogen peroxide to your washer to brighten whites.
Remove grease spots with 1 teaspoon of salt and 3 teaspoon of rubbing alcohol. Rinse with clean water afterwards.
Do you have a favorite natural cleaner you use?

Sharing at Thrifty Thursday