I have a confession.  I used to be the WORST at meal planning!  Everyone's bad at something right?
But, several years ago, after scrambling way too many nights to get dinner on the table,  I committed to changing.  And it was the BEST thing I ever did, not only for my sanity but for our budget and health as well!
I created this free printable Weekly Meal Planner & Grocery List to help others who might struggle like I did!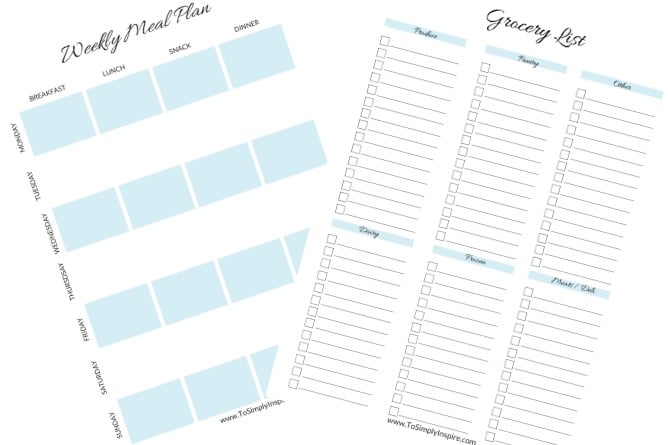 It all starts with simply sitting down one day a week and writing out your plan. Then making a list of groceries you will need, shopping and doing as much make-ahead cooking/ prepping as you can on that day.  Sunday's are my day for planning and prepping.
The basic premise is simple – you choose a type of meal or cuisine and pair it with a night of the week that makes the most sense.  We started with Taco Tuesdays (homemade taco seasoning is a must in our house), Italian Wednesdays, Pizza Night, and went from there.
Other fun themes you can try are Meatless Mondays, Soup Night, Casserole night, Asian night, Breakfast for Dinner night, Crock-Pot night and of course, one of my favorites, Leftovers night.
Remember, the plan is just a guide. If you happen to get off track, just shift days around or freeze ingredients or meals.
When I started, I kept it extremely simple and picked a meat/protein, a carb side, and a vegetable or an all in one recipe like those in the list below.  I have so many recipes to get you to help you get started, so feel free to have a look around after you print your blank templates.
Pro tip: I love prepping and freezing shredded chicken to have on hand and use in many recipes
All in One Meal Ideas:
Happy Meal Planning!  Again, please let me know if I can answer any questions you may have!