This Homemade Peppermint Lip Balm will leave your lips so incredibly soft.  Make your own in less than 10 minutes with just 4 all-natural ingredients.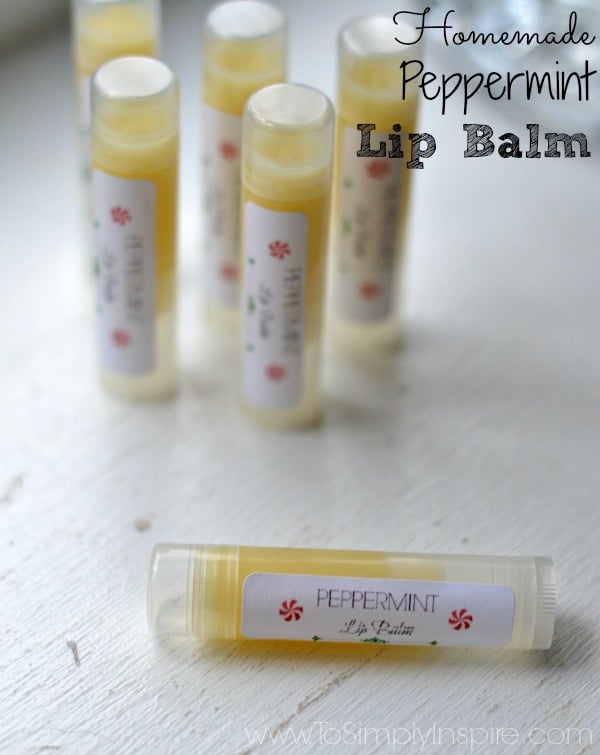 Homemade Peppermint Lip Balm
I am one of those people that has to have a tube of lip balm with me at all times.  I have it in my car.  I have it in my purse.   I can not go to sleep without applying it.  I see a tube laying on the end table beside where I am typing right now.  It's one of my things.
So after making homemade soy candles, you can imagine my excitement of making homemade peppermint lip balm as my 2nd DIY item using my new essential oils starter kit!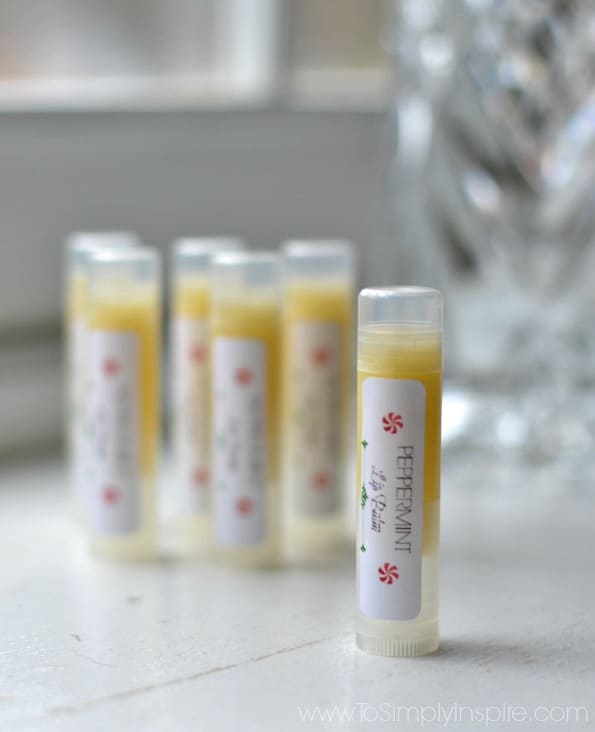 I ordered the shea butter, beeswax and empty tubes from Amazon and they were here in just 2 days with Amazon Prime.  (which I highly recommend by the way)  I used the coconut oil I already had.
You literally just melt the shea butter, coconut oil and beeswax in a glass measuring cup that is placed in a pot of boiling water. You can also place the measuring cup in the microwave at 30 second intervals. Then fill your little tubes with the melted ingredients!
If you like a thicker lip balm, just add an extra teaspoon of beeswax.  It's easy to test the consistency too if you want to before you fill the tubes.  Just take a little bit of the melted mixture and put it on a plate to cool.  Then test it on your lips to see if it's perfect for you.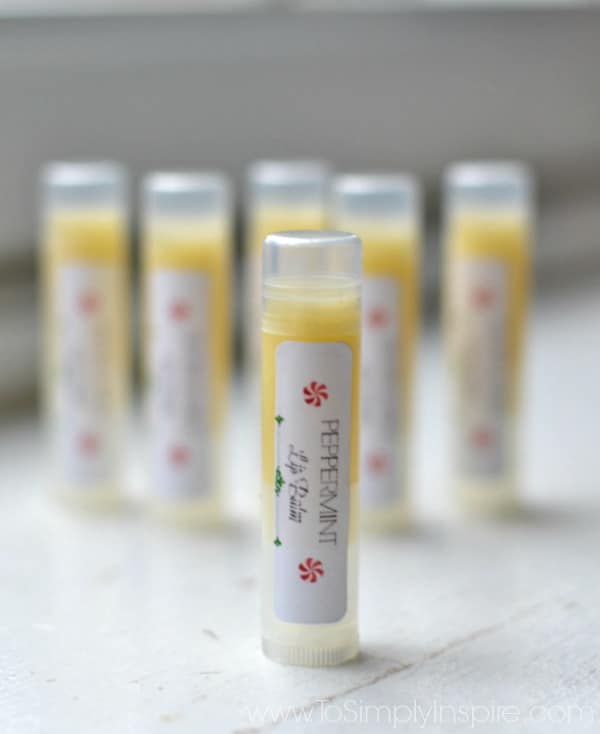 Print these fun Peppermint Lip Balm Labels using Avery 5167 address labels if you want to personalize them a little more. (my printer was almost out of black ink when I printed mine. Hence the faded words)
It is perfection! So smooth!  My lips are so happy! This balm holds up like commercial lip balm, but even better! No strange, unwanted ingredients!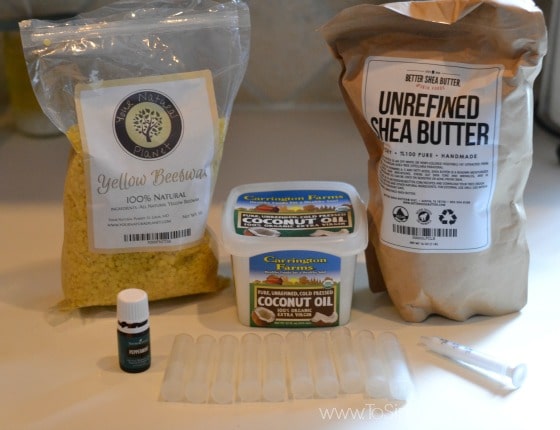 Ingredients for Homemade Lip Balm
makes (12) 5.5 ml lip balm tubes
2 tablespoons shea butter
2 tablespoons organic coconut oil
2 tablespoons beeswax
10-12 drops of therapeutic grade peppermint essential oil
(12) 3/16 oz 5.5 ml lip balm tubes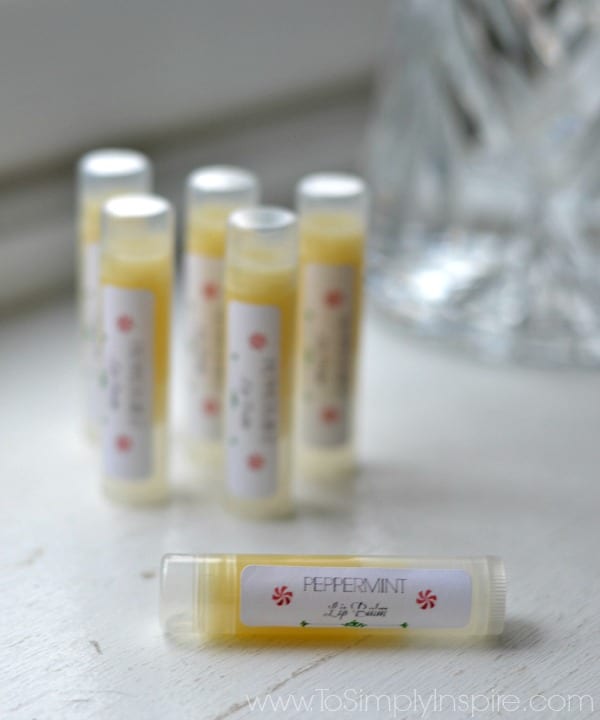 How to Make Homemade Lip Balm
Melt the shea butter, coconut oil, and beeswax in a glass measuring cup placed in a pot of boiling water, in a double boiler or in the microwave at heating 30 second intervals.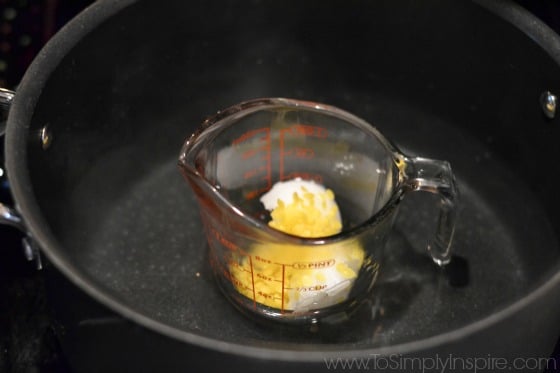 Mix together until completely combined.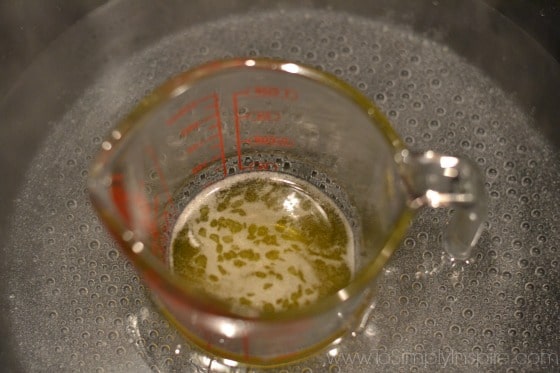 Then stir in the peppermint oil.
Use a pipette or to add the liquid to each of the tubes.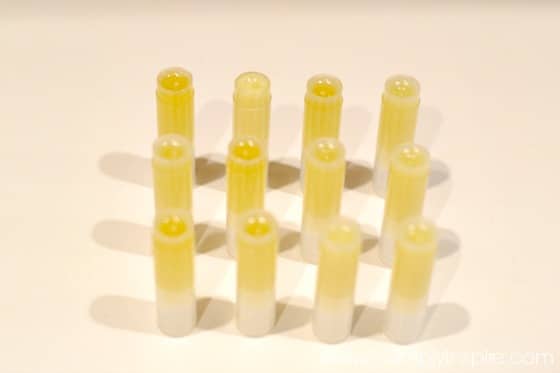 Stir the liquid often to avoid separation.
Place the tubes in the refrigerator or freezer for 15 minutes before placing the cap on so they can set.
Apply labels if you'd like.
ENJOY!!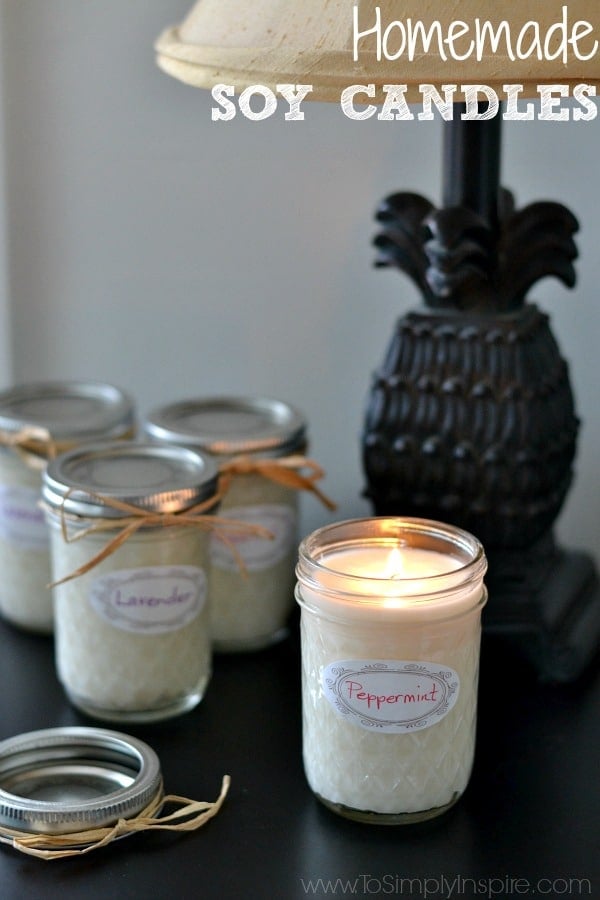 ORDER A YOUNG LIVING PREMIUM STARTER KIT and receive a FREE $15 AMAZON GIFT CARD!   These starter kits make great gifts too if you need a fun idea for someone. 🙂