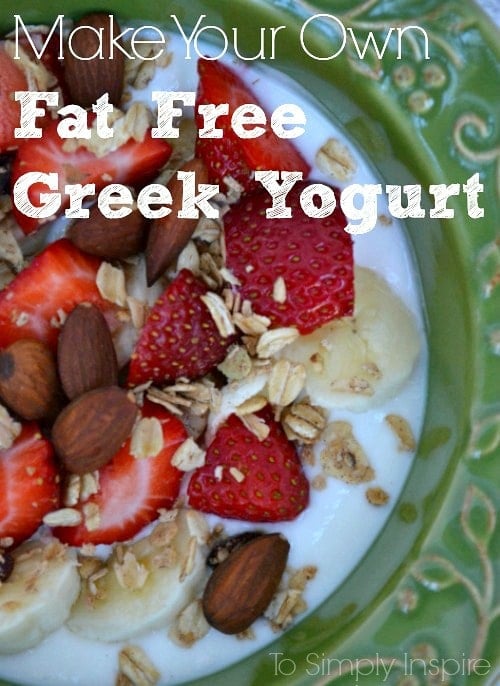 I did it. I did it!  I finally made my own homemade Greek Yogurt.  It has been on my list of things to try for SO long.  Kind of like making my own laundry detergent.  I am thrilled with how easy it is and how wonderful it tastes!  Simply 2 ingredients to get you started.
BONUS – It is so much cheaper.  And you know how much I like that.  The half of a gallon of milk I used cost me a whopping $1.25 and I made 1-½ quarts of Greek Yogurt.  I'm sure you have seen the prices of Greek yogurt.  At my local grocery, I pay anywhere between $3.99 – $5.99 for one quart.  We eat about 3 quarts of the week!  This is going to be a HUGE savings for us.
There are 2 ways you can actually make your own yogurt.  I chose to make it in my slow cooker the first time but I am going to try just heating the milk in the microwave next.
As I have said many times before….if I can do this…YOU can do this! 🙂  I will be making it at least twice a week for us now.
If you would like to sweeten your yogurt, just use honey, agave or maple syrup. You can even use a drop or so vanilla extract to flavor it as well.
Ingredients
½ gallon fat free milk OR 2 Quarts
½ cup of plain, unsweetened yogurt (with live cultures – I used FAGE 0%)
food thermometer
slow cooker
chinois strainer or a cheese cloth and colander
3 towels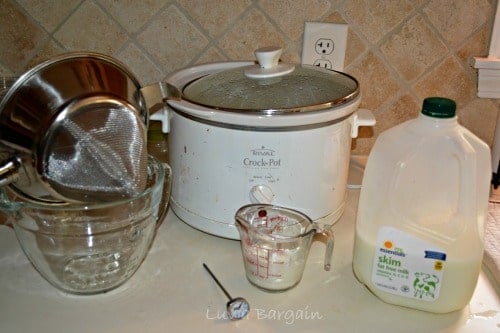 How to Make Greek Yogurt
Pour milk into the slow cooker and cook on high for 2 – 2 ½ hours.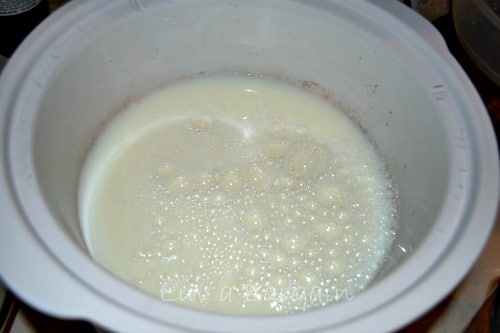 Heat to 180 degrees. (Mine took 2 ½ hours)
Turn off the slow cooker and allow milk to cool to 110 degrees (will take 1 ½ – 2 ½ hours.  Mine took exactly 2 hours)
Allow the ½ cup of plain, unsweetened yogurt to come to room temperature while the milk is cooling.
Once the milk has reached 110- 120 degrees, mix in the yogurt into the milk and wisk gently.  *Be sure milk is below 120 degrees or it will kill the live cultures.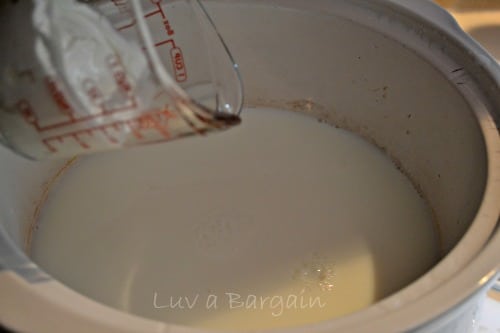 Place the lid back on the slow cooker and wrap the slow cooker with several towels.   Let it sit somewhere undisturbed so it can ferment for about 6-8 hours or 12 hours. It needs to look jello-like.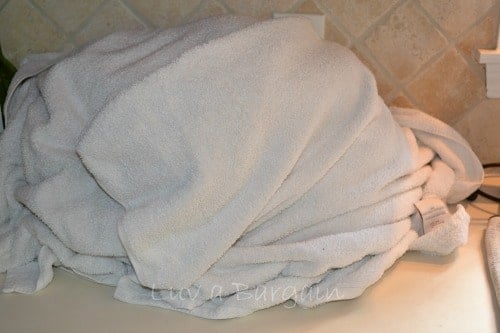 Then, remove the towels from the slow cooker and place it in the refrigerator for about 2 hours to cool completely. Below is what mine looked like after 8 hours of fermenting.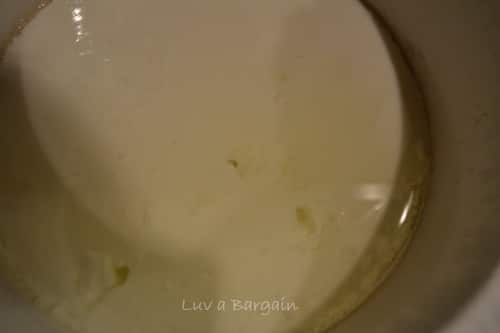 Do not shake or stir.  It will set much better just left to cool.  Below is what mine looked like after being in the refrigerator over night. From 9 pm until  7 am.  You can see the whey that has risen to the top even more.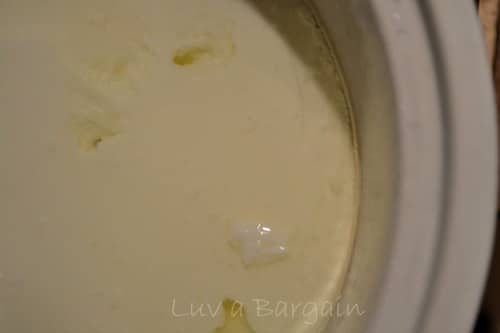 It is ready to eat at this point if you like.  Just whisk until smooth and you are all set to add any fruit, honey, maple syrup, nuts and/or granola.
But, you can easily make it "Greek" yogurt by straining the whey from the yogurt in a very fine mesh strainer, like the chinois strainer I mentioned above, for about 30 minutes.  I found mine at Homegoods for $10.00 🙂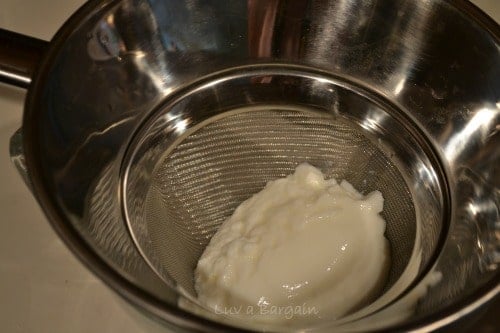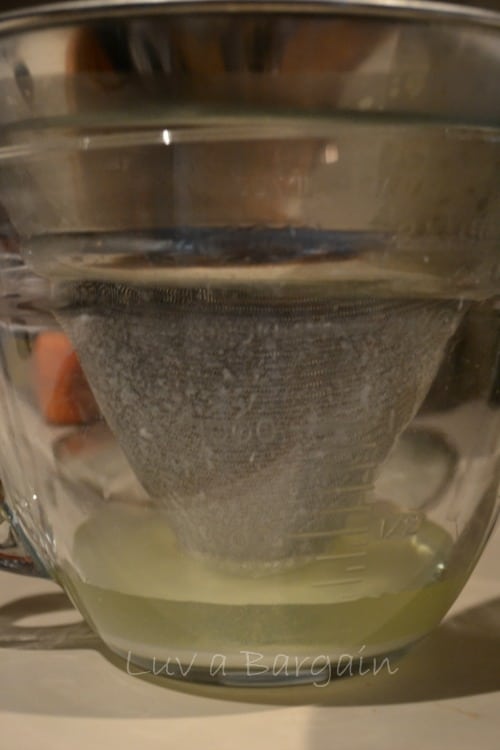 I strained 2 cups from my 2 quarts of milk.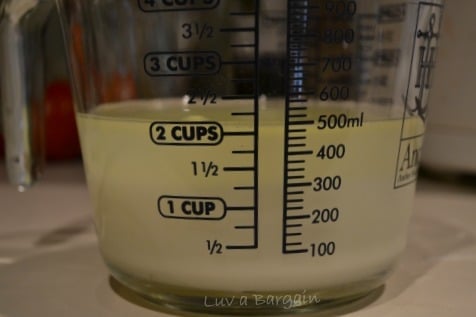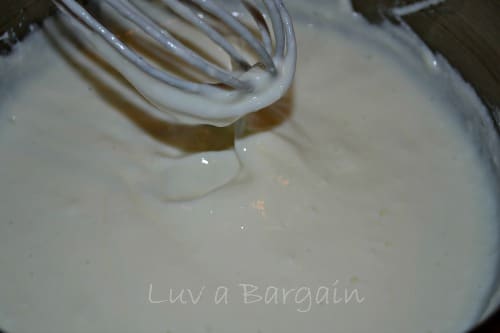 I ended up with over 1-½ quarts of Greek Yogurt!  My daughter had already indulged in a bowlful by the time I got to taking this picture. 🙂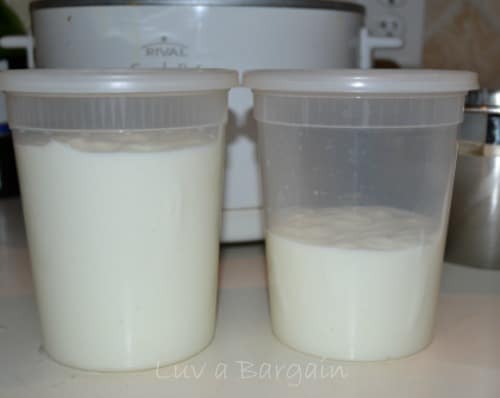 OH….and don't forget to save a ½ cup to use on your next batch as a starter.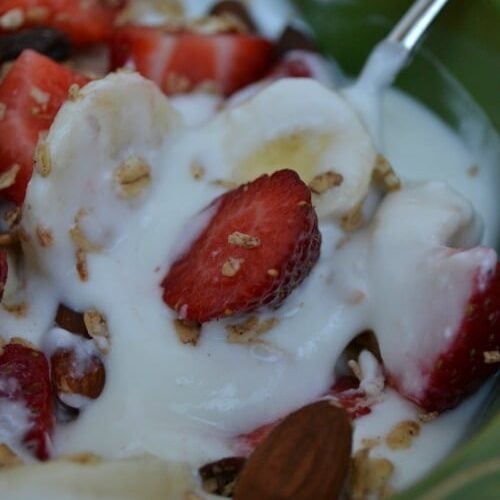 How to Make Fat Free Greek Yogurt
Making homemade greek yogurt is much easier than it seems by just using a crockpot.
Print
Pin
Rate
Ingredients
½

gallon

fat free milk

2 quarts

½

cup

plain unsweetened Greek yogurt

with live cultures - (I used FAGE 0%)

food thermometer

slow cooker

chinois strainer or a cheese cloth and colander
Instructions
Pour milk into the slow cooker and cook on high for 2 - 2 ½ hours.

Heat to 180 degrees. (Mine took 2 ½ hours)

Turn off the slow cooker and allow milk to cool to 110 degrees (will take 1 ½ - 2 ½ hours. Mine took exactly 2 hours)

Allow the ½ cup of plain, unsweetened yogurt to come to room temperature while the milk is cooling.

Once the milk has reached 110- 120 degrees, mix in the yogurt into the milk and wisk gently. *Be sure milk is below 120 degrees or it will kill the live cultures.

Place the lid back on the slow cooker and wrap the slow cooker with several towels. Let it sit somewhere undisturbed so it can ferment for about 6-8 hours or 12 hours. It needs to look jello-like.

Then, remove the towels from the slow cooker and place it in the refrigerator for about 2 hours to cool completely. Below is what mine looked like after 8 hours of fermenting.

Do not shake or stir. It will set much better just left to cool. Below is what mine looked like after being in the refrigerator over night. From 9 pm until 7 am. You can see the whey that has risen to the top even more.

It is ready to eat at this point if you like. Just whisk until smooth and you are all set to add any fruit, honey, maple syrup, nuts and/or granola.

But, you can easily make it "Greek" yogurt by straining the whey from the yogurt in a very fine mesh strainer, like the chinois strainer I mentioned above, for about 30 minutes. I found mine at Homegoods for $10.00 🙂
Nutrition
Calories:
89
kcal
|
Carbohydrates:
12
g
|
Protein:
9
g
|
Cholesterol:
5
mg
|
Sodium:
104
mg
|
Potassium:
389
mg
|
Sugar:
12
g
|
Vitamin A:
485
IU
|
Calcium:
305
mg
|
Iron:
0.1
mg