Philly Cheesesteak Stuffed Shells are loaded with a creamy, beefy, and cheesy filling, smothered in a homemade Alfredo sauce, and baked until bubbly. Made with simple ingredients, it's the perfect family-style dinner idea for any night of the week!
Love comfort food recipes? Be sure to try this Creamy Chicken Casserole or this Crockpot Mexican Casserole or this easy Chicken and Dumplings.
This entire meal is ready in 45 minutes and all you need is a side salad and dinner is served! It's a budget-friendly and kid-friendly meal that can be made ahead of time and baked just before serving. It can also be customized to your tastes and the options for filling are endless!
How to Make this Stuffed Shells Recipe
First, we make the filling for the shells, then we make the alfredo sauce before we combine the two right before we bake it. See the recipe card for detailed instructions.
Step 1. Cook the beef in a large skillet over medium-high heat until no longer pink and drain the excess grease into a colander and collect it in a bowl. Once cooled discard the oil in the garbage.
Step 2. Sauté the green pepper and onion, followed by the garlic. Return the beef to the skillet and add the ketchup, Worcestershire sauce, salt & pepper. Stir to combine. While cooking the meat, cook the jumbo shells to al dente per the package directions.
Step 3. Combine the cooked ground beef mixture with ricotta and provolone to make the filling. Spoon the meat filling evenly into each cooked pasta shell and place it into a baking dish.
Step 4. To make the Alfredo sauce, sauté mushrooms and garlic and set aside. In a medium pot melt, butter and cream cheese over medium heat and slowly stir in half and a half, and continuously stir until creamy.
Step 5. Stir in the Italian seasoning and Parmesan cheese to combine. Follow that by tossing in the cooked mushrooms. Pour this all over the stuffed shells, top with remaining provolone, and bake in preheated oven for 25 minutes until the cheese has melted.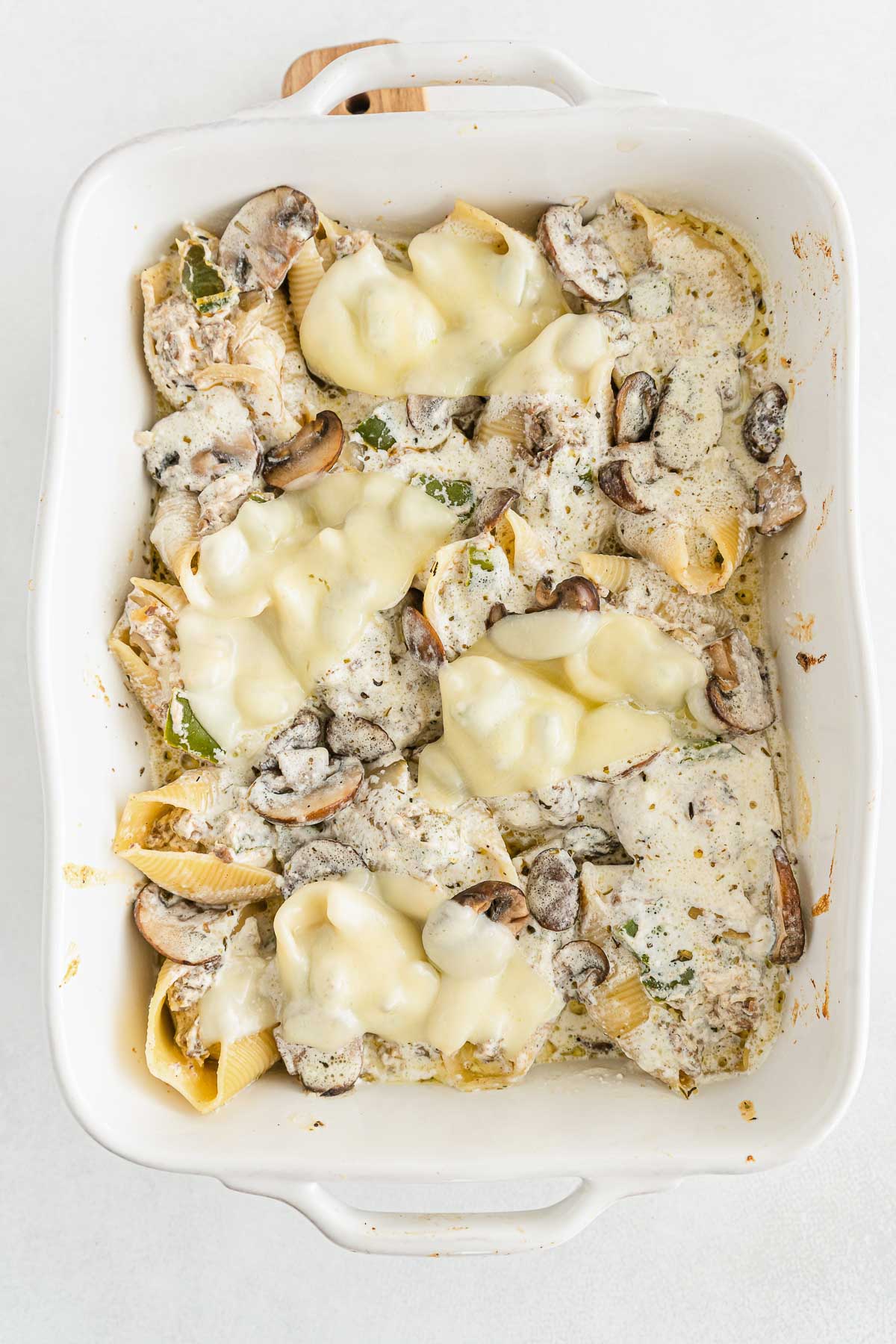 Tips
Store-bought Alfredo Sauce. I do love this homemade version, and will always champion it, it is possible to use a store-bought jar if you're short on time or looking for a shortcut.
Don't overcook the shells. It's important to remember to cook the pasta shells for 3 minutes less. This way you won't end up with soggy mushy shells when they come out of the oven. You want them to hold up to the filling.
Mushrooms hold a lot of water. When you're cooking them down be sure that you cook off the water, leaving little to no liquid behind. This will cause your baked shells to be runny.
Limitless filling options. Use this recipe as a guide for other ingredient options. Stuff your shells with shredded chicken and alfredo sauce, or a buffalo chicken and blue cheese. Tuna, Italian sausage, taco meat, and more!
FAQ's
If you like this recipe, please leave us a comment and rate the recipe below. You can also find us on Facebook, Pinterest, Twitter and Instagram!