Try each of these 30 healthy smoothie recipes for a month's worth of breakfast, mid-morning or mid-afternoon snack ideas.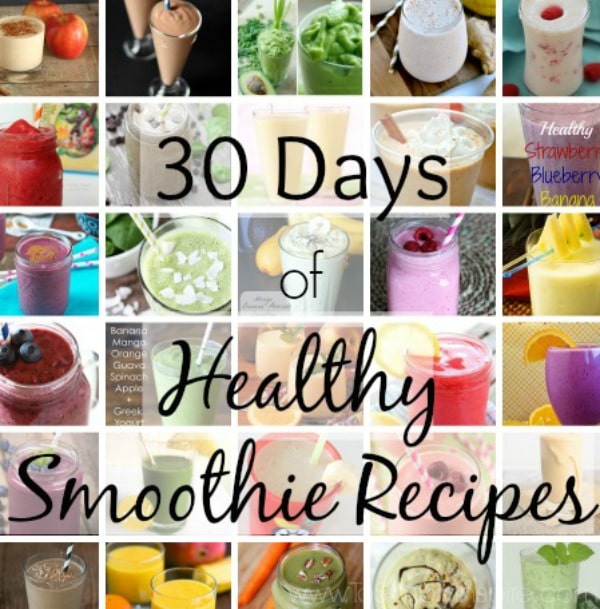 I don't know why I don't make smoothies more often than I do.  I love them when I make them.  But I go through phases every year.  I think I get stuck in a rut of making my favorite Strawberry Blueberry Banana smoothie and then get bored.
When I made this Mango Banana Smoothie a few weeks ago, it unlocked my love again. They make such a a great, healthy mid-morning or mid-afternoon snack.  I usually always add a scoop of  unflavored protein powder (<- this is my favorite)  as well.
Remember, it is best to eat 3 healthy meals plus 2 healthy snacks a day spaced out every 2-3 hours to keep that metabolism going.  Also try to get a balance of protein, carb and healthy fat at each meal too.
I searched for more healthy smoothie recipes that we can make for a whole month!
Want to try it some of these with me?
1. Apple Pie Smoothie @ Prevent Disease
2. Berry Necessity Mango Smoothie @ Hott Mama in the City
3. Blackberry Cinnamon Smoothie @ The Law Students Wife
4. Blueberry Avocado Smoothie @ Gimme Some Oven
5. Blueberry Peach Kale Smoothie @ Snack Rules
6. Carrot Cake Smoothie @ Fit Sugar
7. Chocolate Avocado Smoothie @ Within the Kitchen
8. Coconut Green Smoothie @ Two Peas in Their Pod
9. French Toast Smoothie @ Produce on Parade
10. Green Machine Smoothie @ What's Gaby Cooking
11. Greena Colada Smoothie @Lemon Stripes
12. Healthy Green Smoothie @ To Simply Inspire
13. Peppermint Mocha Smoothie @ To Simply Inspire
14. Mango Banana Avocado Smoothie @ Emilee Eats
15. Peach Smoothies @ Taste of Home
16. Peanut Butter Banana Smoothie @ 100 Days of Real Food
17. Peanut Butter Cup Power Smoothie @ Mama Miss
18. Raspberry Pina Colada Smoothie @ Boulder Locavore
19. Pear Ginger Cinnamon Oat Smoothie @ Mom on Time Out
20. Pumpkin Pie Smoothie @ To Simply Inspire
21. Raspberry Cheesecake Smoothie @ Sober Julie
22. Raspberry Lemonade Smoothie @ High Heels and Grills
23. Raspberry Melon Smoothie @ A Family Feast
24. SkinnyLicious Protein Smoothie @ Skinny Ms
25. Strawberry Blueberry Banana Smoothie @ To Simply Inspire
26. Sunny Hawaiian Smoothie @ Daily Dish Recipes
27. Sunrise Smoothie @ Iowa Girl Eats
28. Cinnamon Sweet Potato Pie Smoothie @ Ambitious Kitchen
29. Toasted Coconut Coffee Smoothie @ Kitchen Treaty
30. Tropical Mango Pineapple Smoothie @ Natasha's Kitchen