Homemade sweet potato bread with the warm spices of cinnamon and nutmeg is easier to make than you think. A healthy, soft, and moist quick bread made from scratch is perfect as a breakfast, a snack, or as an anytime treat!
You can never have too many recipes for healthy quick bread, such as blueberry lemon bread and cinnamon bread. Each has its own unique flavor combination and both so easy, moist, and packed with nutrition.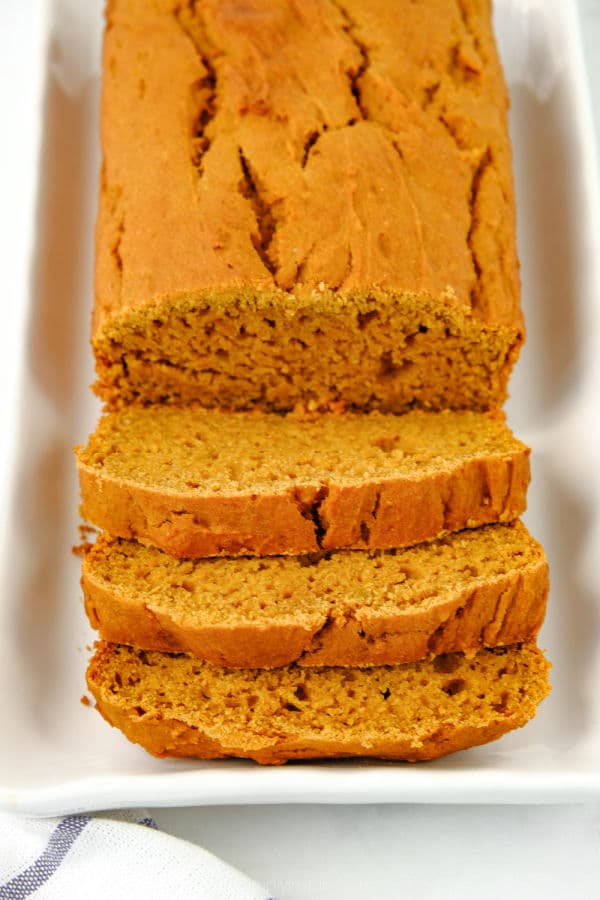 We're spending more and more time indoors as the days get colder and shorter, so why not take this time to learn how to make all kinds of new things using ingredients you probably already have in your kitchen!
Pumpkin is usually the star of the show around this time of year, but I want to give some love to its equally flavorful and versatile friend the sweet potato. Both can be used interchangeably in so many recipes and they both pair well with many of the same spices!
Being able to enjoy the sweet smell of freshly baked bread right out of the oven all winter long is something so special. There is a comfort that is brought to us not only by warm old fashioned baked bread but by the addition of the wonderful aroma of all the fall flavors.
The sweet potato has a natural sweetness and the applesauce and the tender sweet potatoes result in almost a cake-like consistency with bread like capabilities. Grab a slice and spread with your favorite topping. Maybe some apple butter, nut butter, or chocolate spread. Eat it plain with a hot cup of tea or toast it a bit and slather with some butter.
This recipe yields 3 loaves which are enough for you to freeze one for later and share one with a friend! Next time you're at the grocery store, make sure to stock up on sweet potatoes. You'll be making this all winter long!
How to Make Sweet Potato Bread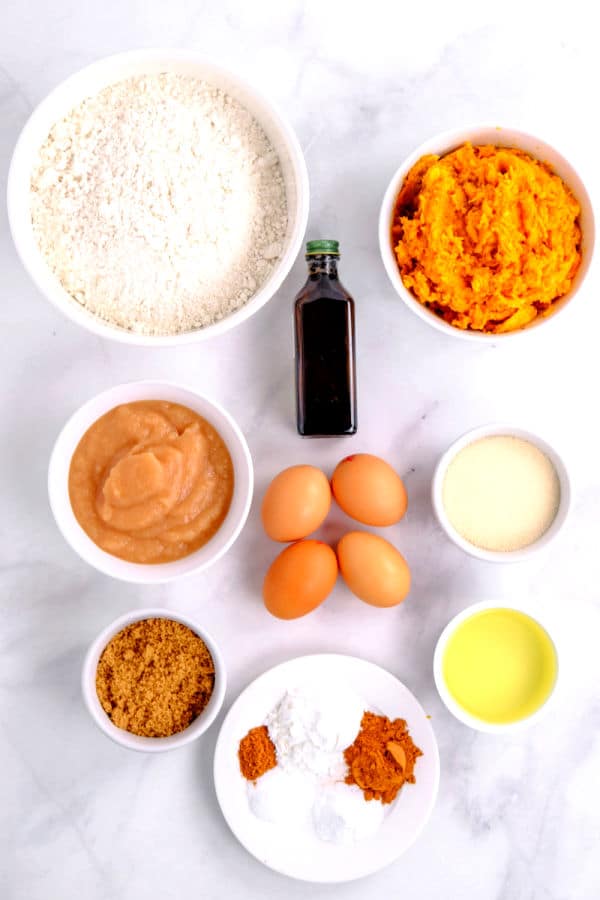 Preheat the oven and grease 3 loaf pans with spray oil. You'll need a fair amount of sweet potatoes for this recipe that will need to be cooked and mashed ahead of time.
In a medium bowl, mix the all-purpose flour, packed brown sugar, white sugar, cinnamon, baking powder, salt, baking soda, and nutmeg, together to combine.
In a separate larger bowl, blend the sweet potatoes, unsweetened applesauce, oil, eggs, and vanilla extract. Mix together well.
Add the dry ingredients to the wet ingredients a few spoonfuls at a time and blend until it is fully combined. You'll notice the batter is thick. You don't want to overmix. When you overmix, the gluten in the flour will become very active and you will end up with a heavier, more dense, bread.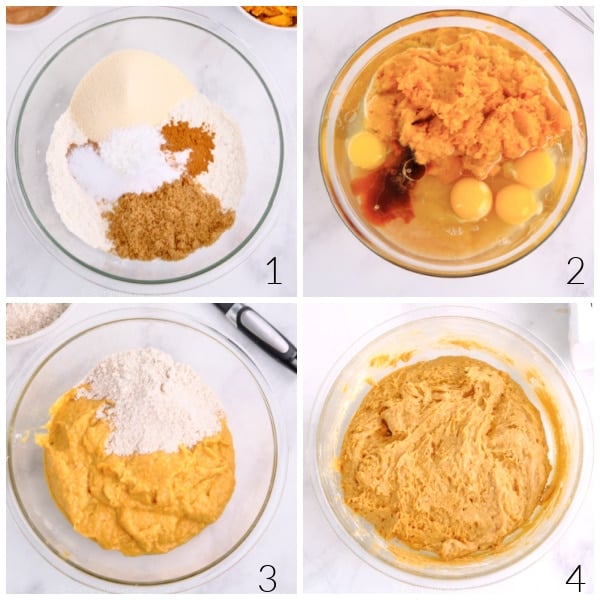 Divide and pour equally into all 3 prepared loaf pans.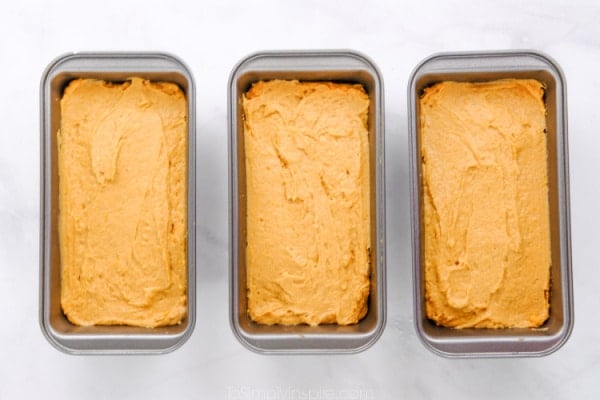 Then bake for about an hour or until a toothpick inserted in the middle comes out clean.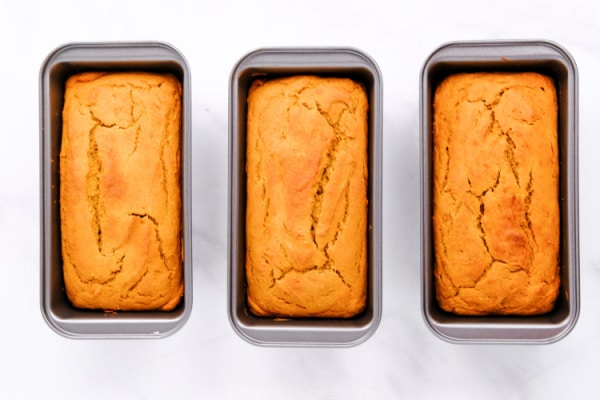 Cool bread in pans prior to removing them from the wire rack. Once cooled, they are ready to slice and serve!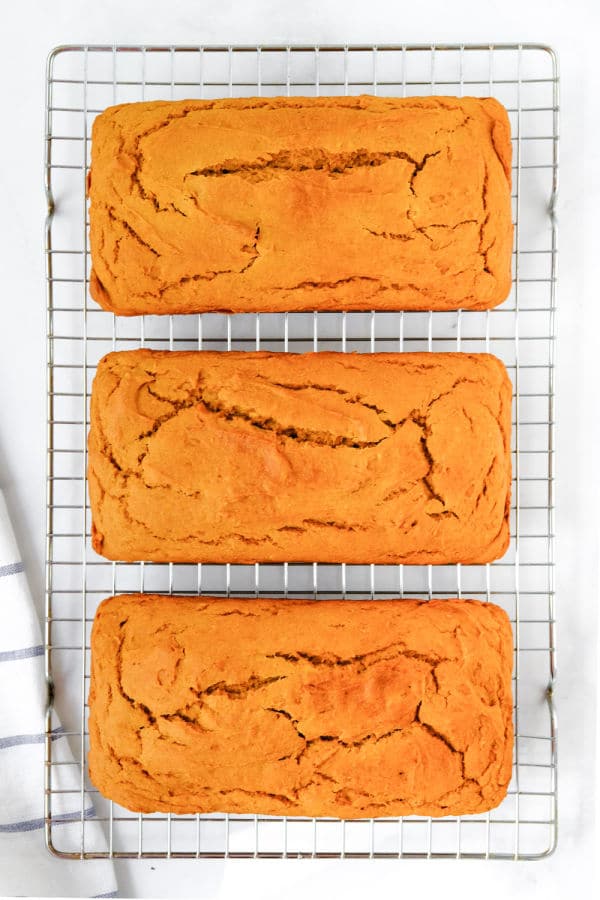 Tips for Success
You can either boil or bake the sweet potatoes ahead of time. To boil them, peel the skin and cut it into cubes and boil until fork-tender. Once drained, mash them with a fork. If you would rather bake them, you can bake them whole or halved at 375 for about 45 minutes. The inside will be tender and will be easily removable.
For gluten-free, use Bob's Red Mill one to one gluten-free flour. Keeping in mind, because this is a quick bread that does not use any yeast, using gluten-free flour may result in a different consistency.
Add 1/2 cup of brown sugar for added sweetness if you prefer a sweeter bread.
Toss in some raisins, pecans, or walnuts for added texture and crunch.
If your batter is too thick, add an additional 1/4 cup of applesauce.
If using a smaller loaf pan, reduce bake time by approximately 10 minutes.
How to Store Homemade Bread Loaves
Uncut, these loaves will keep at room temperature for up to a day.  After that store them in an airtight container in the refrigerator since they don't have any preservatives in them. I just pop a slice in the microwave for 10 seconds and it's nice and warm again!
Can I Freeze Them?
Absolutely! That's one of the best things about making more than one at a time. Make sure they're completely cooled before wrapping each one in plastic wrap then aluminum foil and then place in a freezer friendly bag. You can keep these in the freezer for up to 2 months!
More Easy and Delicious Bread Recipes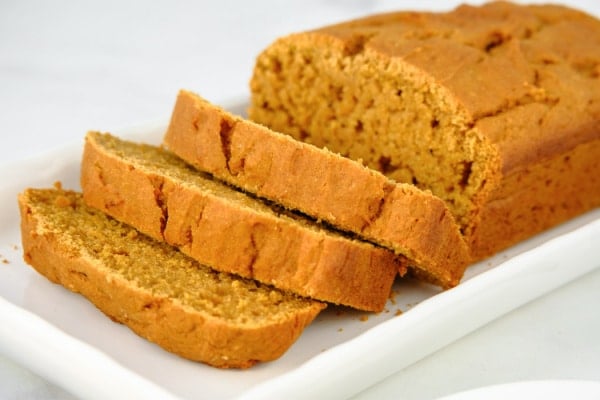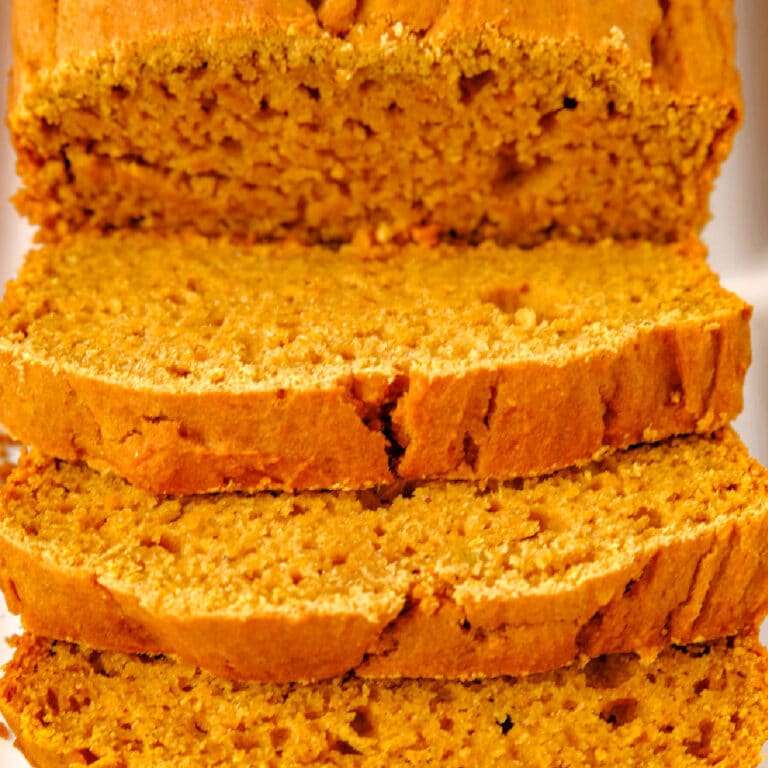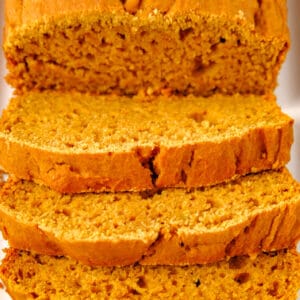 Ingredients
Dry Ingredients
4

cups

all purpose flour

1/2

cup

packed brown sugar

1/2

cup

white sugar

2 1/2

teaspoon

cinnamon

2

tablespoon

baking powder

1 1/2

teaspoon

salt

1 1/2

teaspoon

baking soda

1/2

teaspoon

nutmeg
Wet Ingredients
3

cups

sweet potatoes

cooked and mashed, 24 oz (approx. 3 large sweet potatoes or 5 small sweet potatoes)

1

cup

unsweetened applesauce

1/2

cup

oil

4

large

eggs

1

tablespoon

vanilla extract
Instructions
Preheat oven to 350 degrees F

Grease (3) 8 x 4 loaf pans with spray oil.

In a medium bowl, mix all the dry ingredients together and set aside.

In a separate larger bowl, blend the wet ingredients together well.

Add dry ingredients to the wet ingredients a few spoonfuls at a time and blend until it is mixed well. (The batter will be thick.)

Divide equally into 3 greased loaf pans. (use a scale if you have one to ensure even cooking of loaves)

Bake for approximately 50-60 minutes or until toothpick inserted into center comes out clean.

Cool bread in loaf pans for 10 -15 minutes then remove and place on wire cooling rack until completely cool.

Store in an air tight container in the refrigerator for up to a week.
Notes
Cook the sweet potatoes (prior to making the bread) by either removing the skin and cutting them into cubes then placing them in a pot of water and boil them for approx 15-20 or until fork tender.  Then drain in a colander. place in a bowl and make with a fork.
Or bake sweet potatoes at 375 degrees F for 45 minutes then remove the potato meat from the skin and mash.
Use Bob's Red Mill One-to-One Gluten Free flour if desired
If you prefer a sweeter bread add an additional 1/2 cup pack brown sugar
Stir in 1 1/2 cups raisins, if desired
1 cup chopped pecans or walnuts, if desired
If batter seems too thick add an additional 1/4 cup of unsweetened applesauce.
Use a 9 x 5 loaf if needed. Reduce cooking time by approx 10 minutes
Freeze loaves if desired. Wrap each loaf in plastic wrap or aluminum foil first then place in a freezer bag. Store in freezer for up to 2 months.
A 8 x 4 loaf pan yields approx (12) 1 oz slices. A 9 x 5 loaf pan yields approx (15) 1 oz slices
Warm slices in microwave for about 10 seconds if desired.
Nutrition
Serving:
1
ounce
|
Calories:
123
kcal
|
Carbohydrates:
20
g
|
Protein:
2
g
|
Fat:
4
g
|
Saturated Fat:
1
g
|
Cholesterol:
21
mg
|
Sodium:
158
mg
|
Potassium:
136
mg
|
Fiber:
1
g
|
Sugar:
7
g
|
Vitamin A:
1604
IU
|
Vitamin C:
1
mg
|
Calcium:
41
mg
|
Iron:
1
mg